Utilising the Hypertherm XPR plasma system, cut angles of up to ±50° can be achieved with unlimited winding.
The Plazmax Bevel Head facilitates superior contour beveling in A, V, X, Y and K cutting operation and increases both productivity and efficiency by eliminating secondary weld-prep processes.
The head manoeuvres through 2 continuous axis working with the torch during the rotation of the A & C axis. The torch supports turns on A axis and the intermediate support turns on C axis.
Hypertherm's TrueBevel technology is seamlessly integrated which makes for simple programming of advanced bevels.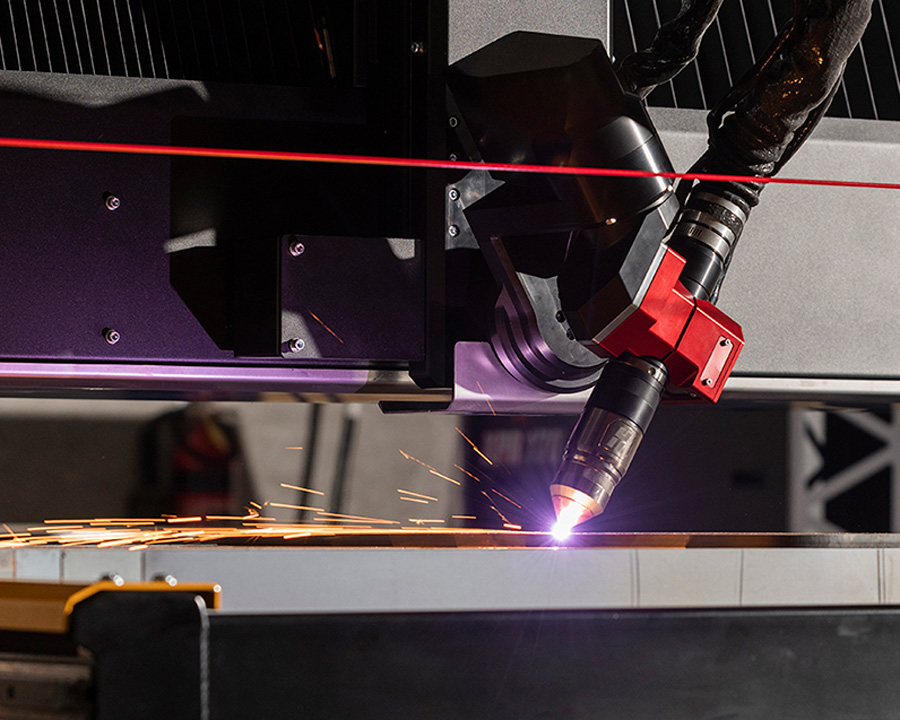 Plazmax's Laser Height Sensor offers faster and more accurate plate detection for precision cutting.
Whilst conventional CNC plasma cutting systems use the plasma torch itself to physically lower and touch the plate to verify the plate position prior to cutting, Plazmax have developed their own Laser Height Sensor (LHS) module that allows their machines to more quickly and accurately perform this process without any added wear and tear on the plasma torch.
This faster and more accurate process means the machine spends less time transitioning between parts and more time cutting. As a result, Plazmax machines fitted with this technology have been shown to cut at least 25% faster across a full nest of parts.
Regardless of if plate is new and clean, aged and rusted or even film coated, Plazmax's Laser Height Sensing technology allows for seamless material detection and precision cutting without compromising on production speeds.
Maximize your CNC capabilities with Plazmax's cutting-edge proprietary software.
After 3 years of inhouse development by 2 fulltime software engineers, Plazmax have designed and built their own proprietary CNC software. The result of this is 'Max Control', a new and innovative controller that allows us to push our cutting tables to limits no other CNC software is capable of doing.
Plaxmax's CutAce is the first choice for manufacturers and engineers looking for the most efficient unitised cutting system on the market.